Canyoning is a form of mountaineering that involves exploring canyons or gorges by maneuvering down a fast-flowing mountain stream using various outdoor skills such as sliding, jumping, climbing, hiking, and rappelling. This activity involves scaling down steep rocks with noticeable cliff drops and running into several waterfalls.
Designed to venture into undiscovered natural landscapes by following water route trails, canyoning can be experienced as a sport and guided tour. The route and the technique used may vary to complete the journey. Canyoning requires careful navigation because of the rough terrain, but it can be done for fun and enjoyed by both kids and adults.
This activity's difficulty level is determined by the number of vertical hurdles and the amount of water. The experience of jumping and diving into gorgeous pools gives an adrenaline rush making canyoning an attractive adventure that cannot be missed. This article details essential safety tips for beginners while canyoneering with your family and kids and why Pure Trek is the safest choice in Costa Rica.
Use of top-graded equipment for canyoning
It is essential to put safety first while partaking in an activity like canyoning; carrying first-class equipment is vital. The tools and gear necessary for this activity differ depending on the demand of the canyon to be explored and the tour. The difficulty of the canyon is judged by its route; deeper and less approachable canyons are hard to explore.
At Pure Trek, safety is our priority; we will provide all necessary gear, such as harnesses, helmets, gloves, solid-setting anchors, and cable wraps. We have thick ropes to rappel, safety cables that are always connected to the top of each rappel, and strong railings on all our trails to walk through the canyon. Kids are lowered with extra precautions, and an exceptional team performs monthly checks to ensure safety and security.
Profound knowledge of canyons
Being familiar with the canyons and the tour route is crucial for the safety and enjoyment of this activity. Canyons change over time; water is a natural cause of erosion; aided by gravity and fast stream flow, the larger surface of the landscape material can be carried away. Additionally, the tectonic plates' movements also shift the canyons' course.
Pure Trek's well-trained team are local experts on all our canyons, trails, slopes, and curves of all the gorges present. Operating since 2001, our team has the most up-to-date information regarding the canyons in La Fortuna, equipped with expert navigation techniques to guide canyoning enthusiasts throughout the tour.
Best-trained adventure guides
Like other adventurous activities, canyoning can be done solo, but it is safer and amusing in a group or with a partner; thus, having a good support team is beneficial. Taking a guide along is highly recommended and essential for beginners. Guides are more familiar with the local landscape and the surrounding inhabitation and often prescribe the best route to explore canyons by keeping everyone's interest in mind.
At Pure Trek, canyoning is made enjoyable by its specialized team of certified adventure guides who are well-coached in guiding your family and kids throughout the canyoning journey. A minimum of 4 guides, up to twelve are in the canyon, accompanying the group depending upon the number of people on tour.  At least three guides assist while rappelling from one platform to another and are extensively experienced working with clients with special needs.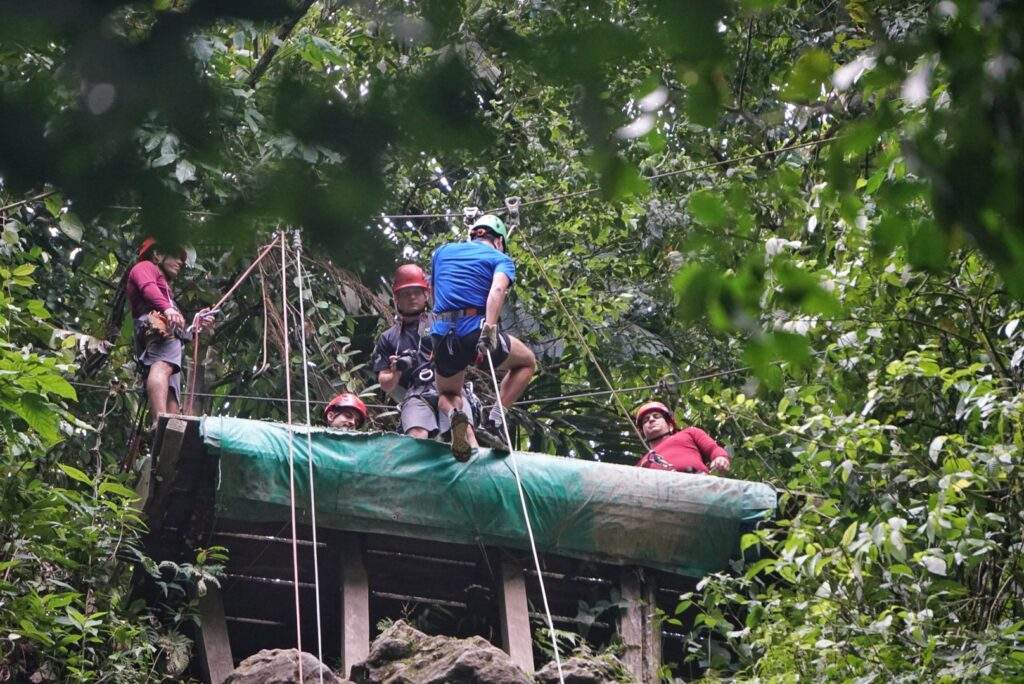 Offer the finest services with lunch and beverages.
Pure Trek offers several experiences, along with canyoning and other adventure activities; we also provide hands-on cooking classes, farm-to-table tours, coffee and chocolate tours, and traditional Costa Rican cooking experiences with beverages to cater to different clients. We aim to provide a wholesome experience by making our guests welcome to the lush green lands of Costa Rica.
Costa Rica's renowned family and kids' experts in canyoning
Jumping into beautiful water bodies, gliding down the natural slides of canyons, and rappelling down waterfalls make canyoning a fantastic activity to experience as a family, surpassing any water park. This exercise offers the best exotic landscape, wildlife, and incredible waterfall views. Canyoneering can be introduced to kids when they begin going to school. The minimum age of participants usually depends on the difficulty of the terrain.
Canyoneering adventure with Pure Trek is acclaimed to be children-friendly, furnished with special harnesses, gloves, helmets, and well-maintained railings on trails guaranteeing safety and fun time for kids. Our guides specialize in assisting kids at every step along the journey stating interesting facts and pointing out plants and animals such as monkeys, sloths, toucans, and many more birds.