La Fortuna is Costa Rica's adventure capital. The Arenal Volcano rises high above over the charming city renown for being one of the most significant landmarks of the country. La Fortuna has friendly people, a lively town center, delicious food, the best smoothies, and gorgeous tropical flowers everywhere. It has to be on your travel path if you love the outdoors, buzzing nature and of course, adventure!
Just as the Arenal Volcano is one of the most majestic landmarks of the country, expect all activities to be higher, faster and more thrilling! You will expect to have a good time, but actually you will have the time of your life creating the most amazing, unforgettable moments and memories. Are you ready to explore with us? Let's go!
1. La Fortuna Waterfall
Let's set the tone with another incredible landside of the area and discover the La Fortuna Waterfall. Upon arrival you will get to marvel at this 70-meter-high fall from high above from a breathtakingly gorgeous viewpoint. Now get ready, because 500 stairs await you to climb down to immerse yourself in the refreshing, fresh water pool that is waiting for you. When you get to the bottom, there are several angles and spots to relax and enjoy the fall.
This is a beautiful and easy waterfall to visit only a short 7 minutes' drive from the city center of La Fortuna. The entrance fee is $18 per person.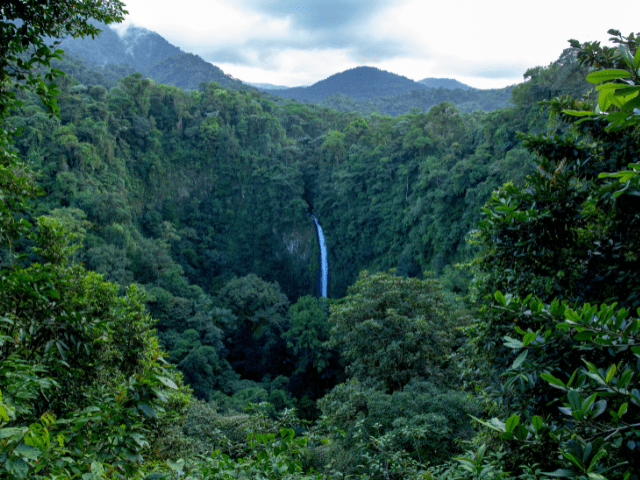 And now let's level up! Next up:
2. Waterfall Rappelling with Pure Trek Canyoning
First advice before we begin the adventure: You will get splash-wet from head to toe. Bring clothes that can get soaked in water and a change of clothes for after & we are all set to go! The experience begins in a mesmerizingly beautiful canyon. You may spot some Costa Rican wildlife like toucans and sloths; so keep your eyes open even though the thrill of this activity may have your full attention. The professional and passionate guides will make sure you will not miss out on anything and of course have your safety as their highest priority at all times. So, let's do this! 4 waterfall rappels await your adventure-seeking soul, one wall rappel, a short rock climb, and the Monkey Drop! You may wonder: "What is the monkey drop?" – We will leave this for you to explore! Intrigued?
This activity cannot be missed out on when visiting La Fortuna! A hearty, delicious farm-to-table lunch before or after your canyoneering adventure is included and will charge up your batteries.
So, are you enjoying the combination of water and thrill? Let's keep going! Why not combine it with the following activity: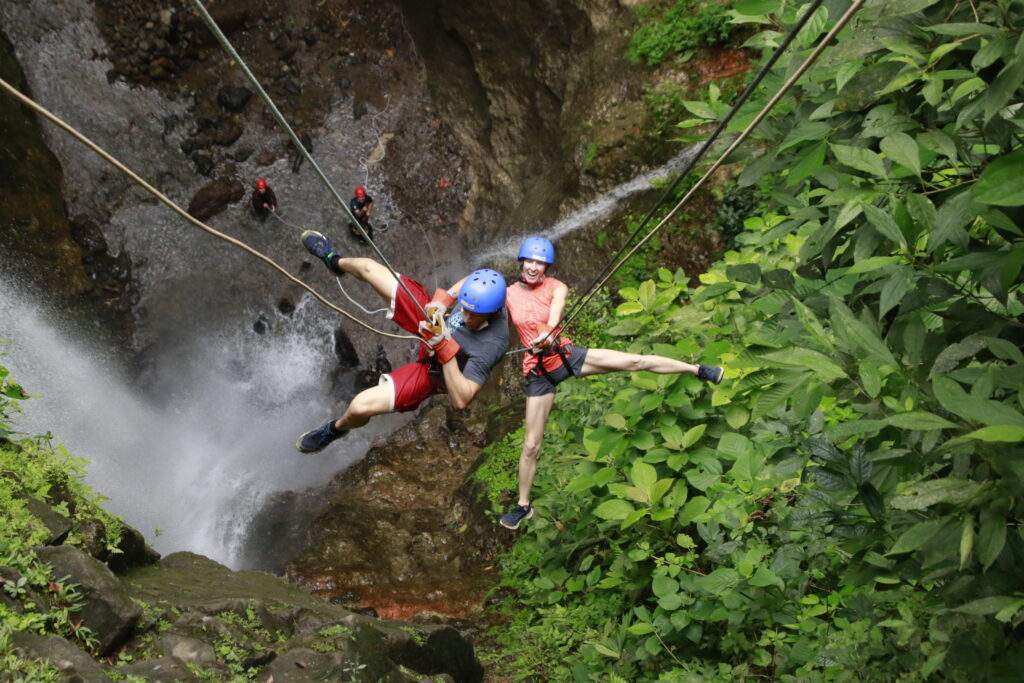 3. White Water Rafting
Costa Rica is rated as one of the best places in the world to raft. With tropical scenery, warm waters and continuous rapids, white water rafting has to be on your travel itinerary when in La Fortuna. You can choose between a family friendly II to III rafting adventure on the Rio Balsa or a III & IV class rafting experience for the thrill-seeker on the Sarapiqui River. If you have never been white water rafting before, there is a guide in the back of your raft that steers the boat and will tell you when to paddle. They help keep everyone safe and make sure you will have a fabulous time! So, if you look for a full-day of thrill and adventure, consider to book a Rappelling & White-Water Rafting combo. (Here)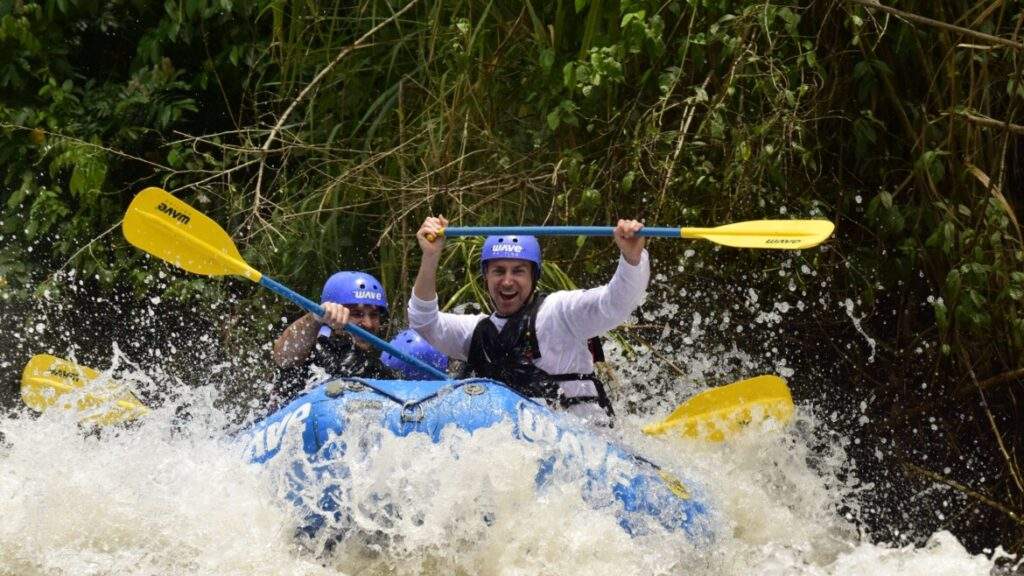 4. Hot Springs
An experience you cannot miss out on when in La Fortuna is a visit of the hot springs. There are a lot of hot spring resorts in La Fortuna that range from nice to absolutely luxurious. Most of the resorts offer both accommodations and hot spring day passes.
Given the numerous volcanoes, healing hot springs proliferate throughout country, varying in size, shape, and temperature. You should for sure plan to visit at least once one of our suggested hot springs. Here our favorites based on budget: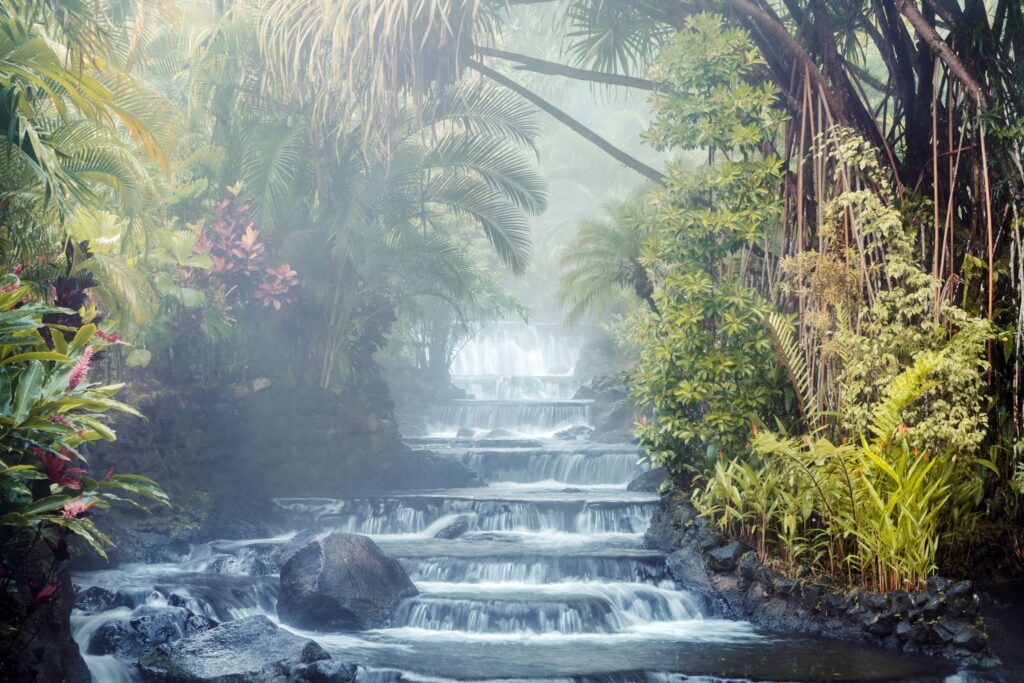 Luxurious:
The Springs Resort Hot Springs
Mid-range:
Budget:
Day passes to these spots are great options – especially if you want to hop around hot springs.
A visit to La Fortuna without an afternoon or even full day soaking in the rejuvenating and healing thermal springs, which typically range in temperature from 77 degrees to 122 degrees Fahrenheit, cannot be considered to be complete.
5. Cooking Classes
Taking home memories and pictures from your La Fortuna getaway is very special by far, but what about taking with you the skills to relive your Costa Rica vacation over and over again in your kitchen back at home trough tropical flavors and recipes?
In this fun activity you will harvest your ingredients yourself in an organic farm. Have you ever tried "yucca" and "plantains" before? Today you will be preparing with the help of your personal chef one of the most renown dishes of the country: "a Costa Rican Casado". Vegetarian and vegan options can be accommodated. This is a fun, hands-on activity that will leave you with a happy tummy and a new talent to impress your family and friends back home.
No matter where your interests lie, there is something for you in La Fortuna! And don't forget –notice the beautiful vegetation, chat with the locals, and keep your eyes peeled for sloths! If you are ready to explore even more activity options or would like to book your Arenal adventure itinerary right now, before the impression of this article's fates: explore all available La Fortuna combo adventures here & let us help you make your dream travel itinerary come true!
Let's keep on exploring!